Skip to Content
Evaluating Ear Conditions in Fort Worth, Texas
Your ears play an important role in your daily life. Not only do they detect and transmit the sounds around you, but they also help you maintain a sense of balance. This is why it's important to keep all parts of your ear healthy. Even a small disruption to the ear system can leave you feeling off your game, affecting your hearing and your ability to balance. If you've noticed any issue with your ear, whether that's pressure, muffled sounds, ringing in the ears, or anything else that concerns you, it's time to make an appointment with an ENT specialist in Fort Worth, Texas, who can diagnose and treat the issue. These types of problems should not be delayed, as they could be signs of a much larger issue that needs treatment right away. Call Expert ENT Care today to set up your appointment.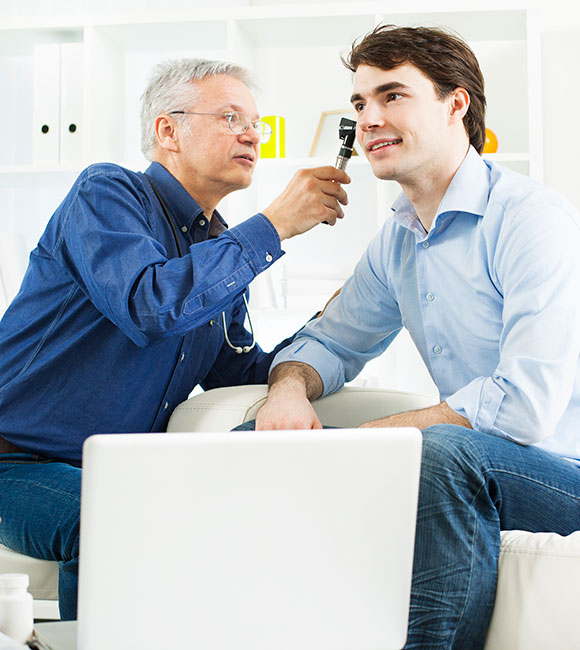 Our Ear Treatments
At Expert ENT Care, we offer numerous treatments to relieve any ear problems you may be experiencing. We'll start by performing a thorough assessment to determine the cause of your problem and whether it's a permanent condition. Then, we'll walk you through the next steps in the treatment plan, fully explaining how the procedure will fix your issue and answering any questions you might have. Some of our most common ear treatments include:
Ear tubes: Also called pressure equalization tubes, these tubes are placed to allow drainage of fluid that has built up behind the eardrum. The tubes also equalize the pressure across the eardrum.
Removal of earwax: In this procedure, we'll use a microscope and special instruments to remove built-up ear wax that is causing muffled hearing, pain, or ear fullness.
Tympanoplasty: This procedure is performed to repair a hole in the eardrum, helping to restore certain types of hearing.
Hearing aids: Our team is able to program and fit hearing aids to help those with significant hearing loss.
Vertigo therapy: Our team is able to diagnosis and recommend treatment for vestibular disorders.
Fort Worth's Ear, Nose, & Throat Specialist
The ears, nose, and throat are a complicated, interconnected system that requires the knowledge of a specialist to treat issues fully. While many insurance policies require that you see a primary physician first, it's important to keep your appointment with a specialist if your physician requests it. ENT problems can be very serious, and you want to get them examined before the issue becomes worse or causes permanent damage. Dr. Fewins specialist in Fort Worth, Texas will be able to diagnose and treat your ear issue. Call to make an appointment with us today.
Find Relief from Acute and Chronic ENT Conditions